3 Hot Spots for Seeing Wildlife Without a Tour
In Costa Rica, sometimes the coolest thing happening takes place right outside your front door.
Many of our clients tell us they view more amazing wildlife at their rental villa than anywhere else during their tropical vacation. Guests of Ballena Royale, a gorgeous 3-bedroom luxury home located between the towns of Dominical and Uvita, often report seeing a long-time resident sloth perched high up in the jungle canopy by the house. Over at Casa Pura Vida, just a chip shot from the warm waters of the Pacific Ocean, we've named the guest suite the "Monkey Hideout" in honor of the curious white-faced monkeys that love to swing through the property. And at Tulu Azul, a 4-bedroom mountainside masterpiece, the sky can be filled with scarlet macaws, toucans, parrots and blue morpho butterflies.
In addition to all of the incredible action that can be viewed from the comfort of your vacation villa, there are many wonderful tours available that'll boost your odds of seeing even more wildlife up close and personal. Still, if you're looking for places to visit without making tour reservations, we have a few ideas. These are easy-viewing sites, located off the main highway that runs from the international airport in San Jose to your vacation rental in the southern Pacific zone. If wildlife is high on your list of must-dos while visiting this fantastic nation, here are three hot spots, with very high odds of seeing wildlife and no scheduled tour required.
Location 1: Tarcoles River
What to Look For: The American Crocodile
Tarcoles Bridge will blow your mind.
This is the first legit place to stop and see wildlife on the drive down. And it's probably the best, so plan for pictures. The bridge in Tarcoles has long been an ideal location to land a bird's-eye view of the scaly, massive beasts that live in the river below. You don't even need to leave the coastal highway, as Tarcoles is on the route between San Jose and Dominical.
These American crocodiles embrace salt water as much as your typical Dominical surfer. They travel the coastal rivers and even head into the ocean at times. The well-fed crocs at Tarcoles are one of the largest species of crocodiles that exists. Crocs, of course, are predators, and pretty much any living thing they encounter is viewed as a potential meal. Do not try to get a closer view from the bridge. The big boys (and girls) below can move 10 miles per hour on land and 20 mph in water.
If you are looking for, or have heard of the t-shirts announcing, "I survived the croc bridge," those originated many years back, before the bridge benefited from widening, bars and sidewalks. Prior to that, anyone who wanted to view the crocs had to risk life and limb both from oncoming highway traffic and not falling over the edge into the river.
Suffice to say, progress can be a good thing!
Location 2: Playa Dominical
What to Look For: Scarlet Macaws flying near the beach
YouGetHere Vacation Rentals already has posted a pair of blogs devoted entirely to these popular locals at Dominical Beach. Only a decade ago, visitors usually had to travel south toward Matapalo and Pavones to see the beautiful macaws in their natural splendor. But about five years back, they decided to please all of us here in town and return.
Spotting a macaw in its natural habitat is a unique experience.
IF your eye is to the sky, you'll notice a bright flash of red and blue flying overhead. But most likely you'll hear them before you see them. The local macaws are always active in the early-morning hours. And when we say early, we mean early. To boost your chances of experiencing this once-in-a-lifetime opportunity to meet the macaw family, head to the beach early and enjoy some coffee under the canopy of the almond trees.
Macaws don't migrate. Once they have a dedicated roosting site, they spend most of their lives there. So, if you are a returning guest at one of our lovely Costa Rica vacation villas, it's likely the scarlet macaw family you met last visit is the same family you'll be greeted by again this time around. While scarlet macaws have an average life expectancy of 30 to 40 years, they are still an endangered species. All of the local and visiting community are all cheering for this magnificent bird to continue its comeback here in our little beachfront community.
Location 3: Hacienda Baru Reserve
What to Look For: Birds & reptiles are most common wildlife
There's a reason why birders from every corner of the world flock to this stretch of coastline. At the Hacienda Baru Reserve alone, bird-watchers have identified 365 different species, or one for every day of the year. For those who don't want to be shackled by the constraints of a guided tour, visiting the reserve's self-guided trails between daylight and dark costs just $15 per person.
Within the self-guided trail areas is a bird-watching tower that stands 7 meters tall. Park experts recommend the top floor viewing deck, at tree-top level, as a perfect place to discover new feathered friends. For the best birding experience, visit before 8 a.m. or after 3 p.m. Like many of us, it appears the birds enjoy a midday siesta.
While the birds retreat from the high-noon sun, the iguanas running around at Hacienda Baru certainly don't. These large lizards make a raucous as they run through leaves and up trees into the canopy. Their speed and agility is quite impressive.
The nature trails pass through a range of terrain including primary forests, swamp, wetlands, and even some pastures. Some trails will veer toward the beach while others lead into the mountains. The trails are marked with signs, and visitors will discover information about local flora and fauna while passing through.
Other Wildlife on the Reserve
Aside from the birds and reptiles mentioned, the wildlife refuge is home to a number of species including sloths, boars, pizotes. Even jungle cats roam Baru, and they are often caught on the night cameras located throughout the trails. In fact, the reserve is arguably most active at night but you'll need a lot of machismo and a ticket to the Night in the Hacienda Baru tour to experience it. We do not recommend this tour for the faint of heart or anyone with a fear of snakes. The current night-tour rate is $158 per person.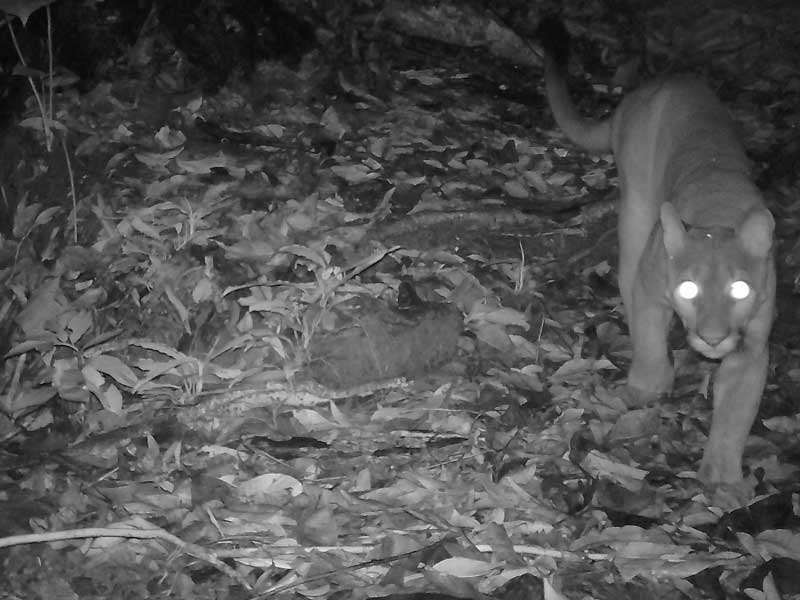 As always, when you head out into nature, make sure you're well prepared. Bring your sturdiest hiking or tennis shoes, binoculars, sunblock, bug spray, hat, camera, snacks and lots of water and/or electrolyte drinks.
Now, after doing all of this research, if you decide a guided tour is more conducive to what you're looking for while on vacation, send us an email to [email protected] and we can make all the arrangements for your group in advance.